A price guide for sliding doors
Price comparison for the Sieger® Sliding Doors
There are several Sieger® sliding doors available from Sieger® Systems all offering high levels of thermal performance and a modern aesthetic. Each sliding door is fabricated by hand, bespoke to each project to create a unique design specific to the project in hand. Sieger® have three sliding doors to choose from, the Sieger® 45, Sieger® Slim and the Sieger® Slim XL:
Sieger® 45 Sliding Door 
The Sieger® 45 sliding glass door gets its name from the thin 45mm vertical frame that is achieved with this sliding door system. This sophisticated sliding door system can hold panes of glass with a thickness of up to 28mm, with a maximum panel weight of 200kg. These sliding glass doors have been thoroughly tested for performance including weather resistance and security.
The aluminium frames are fully thermally broken and create a well-insulated door system suitable for use as a rear sliding door, balcony door or roof terrace access door. The sightline between each sliding pane is 45mm and the surrounding outer frame is stronger to create a beautifully wide apertures. The cost of a Sieger® 45 sliding door is approx. £550m2. to supply, however the cost will vary depending on the glass specification and installation costs will vary based on the location of the project.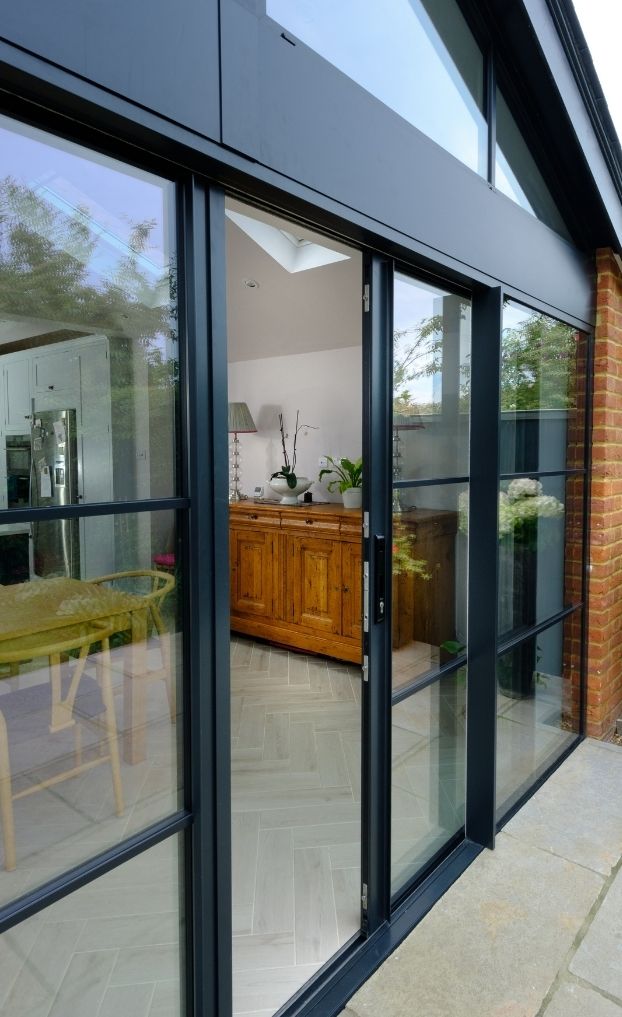 Sieger® Slim Sliding Door
The Sieger® Slim sliding door offers modern design qualities resulting in a luxurious indoor-outdoor living aesthetic. The Sieger® Slim system has a slightly thinner vertical sightline which creates a minimalistic frame finish with minimal interruption to the surrounding views. This sliding door system offers a completely flush threshold to create a seamless transition between the indoor and outdoor spaces; within the base of the system, a drainage solution has been integrated to ensure the system deals well with the UK's wet weather conditions.
Due to the exceptionally slim sightlines of this sliding door system and large pane sizes available with this system, the cost is a slight increase from the Sieger® 45 sliding door. The cost for this slim sliding door system is approx. £750m2 for supply, as with the Sieger® 45 system the cost will vary depending on the glazing spec and frame finishes desired as well as installation costs that are determined by the location of the project.
Sieger® Slim XL Sliding Door
For large format, slim framed sliding doors, the Sieger® Slim XL Sliding Doors are a contemporary solution to create beautifully elegant wide-open apertures. This system can hold maximum glass sizes of 4m x 4m with a maximum weight of 700kg per sliding pane. Due to the expansive sizes available with this system, automation is available which makes sliding doors move at the touch of a button.
This premium sliding door option is ideal for large openings including corner opening designs. This system can be designed with a 6-pane opening corner sliding system or bi-parting configuration as well as a pocket door design. The Sieger® Slim XL Sliding Door can be designed with triple glazing to create excellent thermal performance levels. At approx. £850m2, the Sieger® Slim XL Sliding Door is the perfect solution to create an impressive external aesthetic.
Speak to a member of the Sieger® team for accurate costings based on your project requirements and project location.
The Sky House Design Centre
We are here to help. Contact us for Quotations, Technical Information, General Information and more.
Our factory is fully open for fabrication and supply only orders.
Our showroom in Amersham is currently closed to visitors due to lockdown restrictions, however our team are conducting virtual showroom visits.
What would you like to contact us about?